Motorcycle Roadworthy Dandenong, Ringwood
We can offer RWC Roadworthy inspections every day that we are open. We offer a 'While You Wait for' service which takes around 1 -2 hour (bookings required). We are also one of the fair & affordable  Motor Cycle roadworthy inspection in Melbourne.
Our Roadworthy Examinations are conducted in a fair and reasonable manner.  If your bike passes the first time, it passes – simple.  We don't 'find' things wrong with your bike, just to get some extra money out of our customers.  If any items are found in your Motorcycle Roadworthy Ringwood, Glen Waverley, Dandenong & Knox. we are more than happy to show you what the issue is and what needs to be done to pass the RWC.
Some basic items to check before bringing your bike in for a Roadworthy Test – RWC – this will save you, your own valuable time:
Tyres: must have over 1.5mm of tread at the lowest point on the tyre – no cracks in the rubber
Fender eliminators: most fender eliminators do not pass roadworthy, but in most cases, we have a low-cost solution to re-fitting the original fender. The rear fender must have a reflector
Number plate light globe: must be white and clearly illuminate the number plate
Aftermarket exhausts: motorcycles manufactured after 1984 must have exhausts that read 94db or lower to pass roadworthy. Most aftermarket exhausts exceed this but we can sometimes provide a solution if you do not have the OEM exhaust
Must have a properly working horn
Indicators: must flash yellow and between 60-120 times per minute
Headlight, stop tail and dash lights: must be correctly operative
Chain & sprockets: must be in good working condition and not excessively worn
Oil leaks: there can be no oil leaks that drip onto the ground
Brake pads & discs: your brake pads must be over 1mm thickness and your brake discs cannot be worn past the limit specified on the disc
Fork seals: there can be no oil leaking from your fork seals
Bearings: all bearings must be in good working condition with smooth operation – no binding or notchy-ness at all
The above are only some of the criteria that a motorcycle has to satisfy to successfully obtain a Roadworthy Certificate (RWC).  There are many more checks conducted during a Roadworthy Test by our licensed testers and examiners.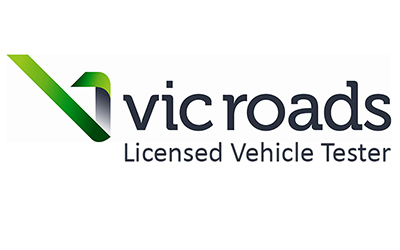 If your vehicle fails in the roadworthy inspection due to one or more problems, you get a time period of 7 days for getting it repaired and checked again. We provide top-quality service and charge fair prices for the roadworthy certificate.